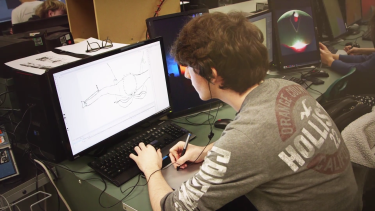 As the motion picture industry and interactive internet market expand,  good 3D modeling is a time consuming skill that is in high demand.  We can honestly say Abbotsford has one of the best animation programs in the country - Abbotsford Students have won Animation Gold at the National Skills competition multiple times, and have gone on to work for companies like EA Sports, Disney, Microsoft...   
Students learn the planning, principles, and fundamentals of animation, including
            3D modeling       2D and 3D animation and scripting          
            Game design     Graphics     Imaging        Digital video
            Lighting              Rendering          Editing
Projects include adding motion to characters and objects,and developing special effects (CGI-Computer Graphics Imagery) to produce backgrounds, explosions and other amazing effects.
3D models and animations are used in many applications
character animations
video games
architectural and engineering design 
product design
sales presentations 
scientific simulation
environmental planning 
Industry Standard Hardware and Software
Students learn and develop their skills in classrooms equipped with industry standard hardware and software, including
Blender 2.5      3D Studio Max        Adobe Illustrator       Adobe Photoshop    Adobe Flash
Digital Portfolios
Students create Digital Portfolios to showcase their work, designed as tools for academic and professional advancement.