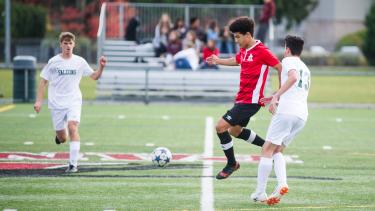 Qualified International Students can participate in Abbotsford School District Sport Academies
Sport Academies allow students to train in a particular sport in addition to studying academics, and are a great way to meet Canadian and other International Students. Time spent participating in academy training can count as PE and elective credit.   
**Please note that Academies take place during the regular school day and count as one of the daily classes.  
Soccer at Abbotsford Secondary  
Male and female Students in Grades 9 - 12 can participate in the soccer academy.  

Previous playing experience is an asset.
Very popular with our International Students, past participants have come from Germany, Mexico, Columbia, Brasil and Japan.
Students must submit the application with their online application to the International Program
Fees for the Soccer Academy will be invoiced with and must be paid at the same time as regular International Program fees.  $750/year or $450 for one semester, includes coaching and kit.
Space can be limited, please contact our office before applying.
Download Soccer Academy Details 
Watch our International Players VideoWatch our Academy Coaches Video
Golf at Robert Bateman Secondary
Alumni include PGA Pro Adam Hadwin 
Approximately 40% of the program is held at Ledgeview Golf Course and Fraserglen Driving Range, where students will be instructed by certified CPGA professionals.  (PGA professional Nick Taylor's home course is also Ledgeview, and it is where the PGA Seniors Championship was held in August 2023)
Students travel to tournaments throughout our region and as far away as Palm Springs
This season 3 of our students placed in the top 20 at the Futurechampions college talent tournament and are heading to the US on golfing scholarships
Approximately 60% of the program will involve golf specific athletic performance training, mental training, rules, ettiquette, anatomy, and nutrition by certified instructors and trainers.
Golf Room at the school is equipped with a putting green, two hitting bays and a FlightScope for up to date swing data.
$2500 / year for coaching fees, driving range usage, transport to golf course, program equipment upgrades.  Additional $500/year for Ledgeview Golf Course Membership
Download Golf Academy Details   Link to Golf Academy Instagram Watch Golf Academy Video
Elite Hockey

at Yale Secondary
Consistently ranked one of the top performing high school hockey academies
Graduates have gone on to receive hockey scholarships across Canada and the US
Alumni play on NHL and National Teams
International Students interested in applying must submit comprehensive GAME video in order to be considered.  
Space is limited, applicants MAY be required to attend team tryouts
Click for more Hockey Academy Details
Baseball (male), and Softball (female) at Yale Secondary
Extremely competitive and successful programs resulting in numerous college scholarships across and Canada and the US
Click for Softball Details  Click for Baseball Details
Basketball Skills Development at Robert Bateman
The Basketball Skills Development program provides athletes the opportunity to continue to train and develop their skills outside of the regular basketball season.  Sessions run before and after the season, and are scheduled before early mornings before school hours or in the evenings.  There are no games played, rather the focus is on identifying and improving individual ability, as well as team play and strategy.  This is a great way to stay sharp and be more than game ready when the new season begins.  There are no additional costs for this program.