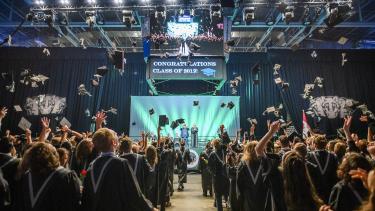 Student Success
Why Abbotsford is a great choice for you!
As part of one of the best education systems in the world, Abbotsford School District offers great education opportunities. All Abbotsford schools accept international students and provide full academic and ESL support.  
How do we do it? Canada and BC provide one of the best educations in the world!
Canada is #1!  According to the OECD, Canada is is the highest ranked English speaking country in the global PISA tests, and ranks well above the UK and the US (based on combined science, math and literacy results.)  Our province British Columbia is consistently one of the top performing provinces in the country, and reports some of the highest PISA scores in the world.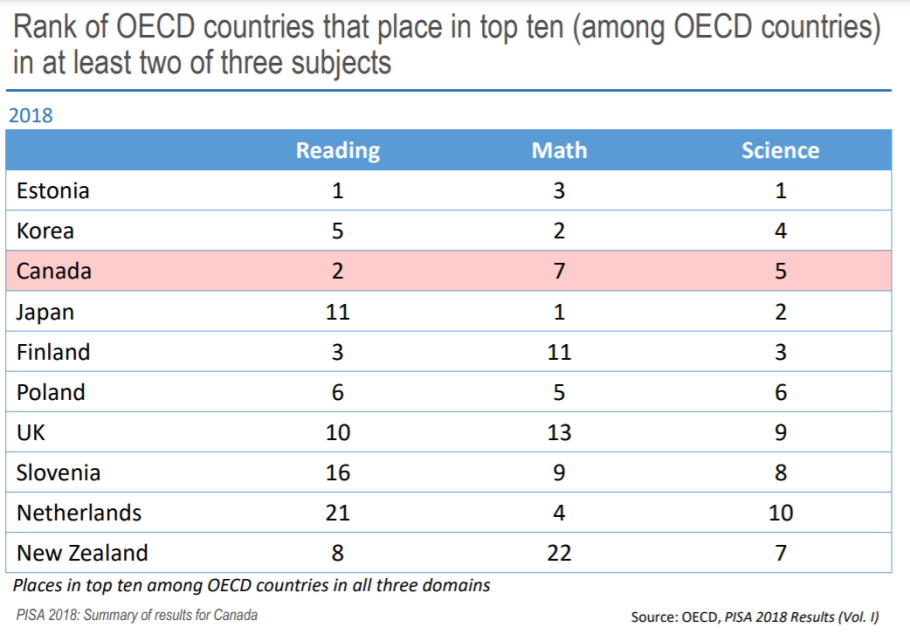 Strong academic results = Great access to University
Abbotsford graduates go on to study at outstanding universities across Canada and around the world. If students are smart, motivated, and work hard, they can achieve their academic goals.
Some of the schools Abbotsford students have attended are:
Oxford - Rhodes Scholarship           Harvard                           Stanford                                  Cornell
UC Berkeley                                     Brown                              MIT                                         Princeton 
University of British Columbia          University of Toronto       John Hopkins                          Penn State
Parson's School of Design              Clemson                          Notre Dame                             McGill
Seoul National University                Simon Fraser                   NY University                          Cambridge
Purdue                                            Seton Hall                        Queens             and many more....
Abbotsford students go on to achieve great academic and professional success, including:
MD/PhD  at Penn State, now conducting Spaceflight Medical research for NASA
PhD at Stanford now working on Government Policy in the Senate in Washington DC
MBA at Oxford now CFO, secretary, vice-president of Business Development and Director
PhD at Johns Hopkins now working as an associate professor in Economics at Fordham University
PhD in chemical physics at Stanford
Harvard Medical School graduate now working as an Emergency Medicine Resident at OHSU
​PhD in Neuroscience at Case Western Reserve University, now working as an Associate Professor in the department of Molecular and Cellular Biology at Harvard University
PhD in Astrophysics from U of T, Sagan Postdoctoral Fellow, now teaching at MIT
PhD in Computer Science at UC Berkeley, now working for Google Translate
UBC Engineer at Rolls Royce Canada Aerospace
Engineer at TESLA 
Queens Medical School graduate, now Anaesthesiologist resident at UBC
Scholarships – Abbotsford students (including International Students) have won a wide range of scholarships, including "full rides" and funding in excess of $240 000USD.  
Academic Competitions - Multiple students have competed and medalled in national and international Math competitions, and have been on National Chemistry and Physics Olympiad Teams which compete internationally.   One student won silver at the Moscow Chemistry Olympics, and another recent graduate scored in the 100th Percentile on the MCAT.  
Some notable Alumni...
Shane Lloyd - UBC, Penn State and NASA 
"Students in Abbotsford have just as much opportunity to be successful in the sciences as anyone else at any other school.  I have had a number of opportunities to work with NASA over the years, and it is definitely the coolest science experience I have had.  Mentors in the science department  were instrumental in my pursuit of a career in science & medicine."
Jeremy Witmer - UBC, Stanford and Apple
After graduating from highschool in Abbotsford Jeremy Witmer completed his undergraduate studies in Engineering Physics at the University of British Columbia.  During his time as an undergraduate Jeremy worked on research projects in nuclear physics, miniaturized microphone design, and nano-scale optics.  Jeremy then went to Stanford University to do his PhD in nanophotonics, where his research focused on using nanotechnology to create a way to connect quantum computers (a new type of supercomputer) together into a quantum internet.  After finishing his PhD, Jeremy is now a Senior Laser Engineer at Apple
Ruky Agbahovbe - 3rd Year Resident UBC Psychiatry, Community lead BC Black Doctors
Now a 3rd Year Resident Doctor with the UBC School of Psychiatry, Ruky says "Although I didn't appreciate it at the time, the work ethic that I developed from chemistry classes truly made med school a piece of cake. As hard as it was, it still wasn't as bad as the days that we would have homework, reading, a lab report due by the next day, and a quiz to study for!"
Nafeel Ahmed – 100 Percentile on MCAT
"Just wanted to let you know that I got my MCAT results back yesterday and I scored in the 100th percentile!  I wouldn't be nearly as successful today without everything you taught us not only about chemistry but also about reasoning in exams rather than just memorizing."
Download our student success document
Read how Canada became an Education Superpower 
Our teachers and International Student Department work hard to make sure that students are well supported to reach their full potential.  
Click here to read about our International Students' experiences, and where they are studying now.