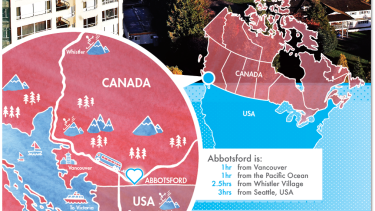 Location
Experience Abbotsford!
Just a one-hour drive from Vancouver, Abbotsford is one of Canada's fastest growing cities. It's an urban center in the Fraser Valley, close to the US border, surrounded by mountains, rivers and lakes, and has majestic Mount Baker in the background.  Students live in an area surrounded by spectaular nature, but are still close enough that they can visit Vancouver on weekends.  The trip to Vancouver City Centre can be as short as 1 hour and 20 minutes, by taking the #66 Express Bus from HighStreet shopping mall to Lougheed Station, and then taking the SkyTrain into the city centre from there.
With our low population of international students (approximately 7% in our highschools), Abbotsford offers a uniquely Canadian study and home stay experience that showcases both urban and rural Canadian life.  Watch our short Abbotsford Video and follow Tourism Abbotsford on Instagram to see what our city has to offer...
Abbotsford Facts:
Population of over 155,000
Average temperatures range from 7 degrees Celsius in winter to 24 degrees Celsius in summer
Diverse local economy based on aviation and aerospace // film, television and events // agriculture // niche manufucturing // education, 
More than 200 restaurants featuring a variety of international styles including west coast Canadian, Korean, Japanese, Vietnamese, Greek, Mexican, Indian, Italian, Thai and Chinese food
Local activities include skiing, mountain-biking, white water rafting, escape rooms, virtual arcade, climbing gym, golf, farm tours, go-karting, mini golf and water slides
Amenities include a modern hospital, two shopping malls, VIP Movie Cineplex, an international airport, the University of the Fraser Valley and the Tradex, where many concerts, trade shows and sporting events are hosted.
Local events include the Abbotsford International Airshow and the Berry Beat Festival
For more information about local events and features click on the links below
 Abbotsford Video   Abbotsford Tourism    Festivals and Events   Trails and Hiking   Exciting Activities   Shopping   Golf